Conferences Hosted
Mapping Staff
Our drafting team of 4 is:
GULLA GISLADOTTIR: GIS Analyst
CHERYL BASINGER: GIS Technician II
DAVID DAUPHIN: GIS Technician I
MEAGAN VANMATRE: GIS Technician I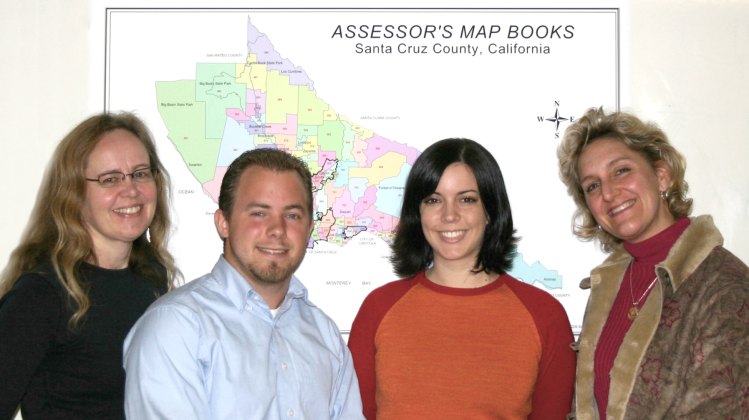 From left: Gulla Gisladottir, David Dauphin, Meagan VanMatre, and Cheryl Basinger. (2005)
Stuff to Share
The following documents are part of our procedures manual. They demonstrate much of our workflow when maintaining our geodatabase with ArcEditor. Go ahead and download them; you know you want to.

Geodatabase Design
PDF; 612KB
Our geodatabase model diagram.
Editing Procedures
PDF; 779KB
General editing procedures for plotting a traverse, splitting, and combining parcels in the geodatabase.
Converting CAD Maps to Geodatabase
PDF; 1026KB
General editing procedures for incorporating existing CAD map data into the geodatabase.
Check Edit Version
PDF; 85KB
Items to check in your edit version before you make it public for posting.
Reconcile and Post
PDF; 123KB
The administrator resolves conflicts between edit versions, then posts the edits to a parent version.
Managing Edit Versions
PDF; 213KB
Creating new edit versions after posting.

Also check out Gulla's presentation from the 2004 conference.